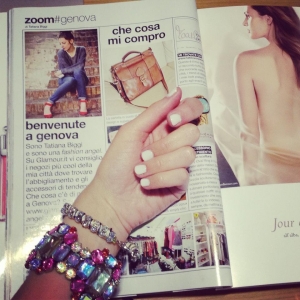 OMG, I still can not believe it: it's me on Glamour Magazine, May issue!! I am so happy because Glamour is my fav magazine ever and see my face on its pages… wow 
♥
♥
Btw in this page (totally dedicated to me!!) I suggest my fav places in Genova + it pieces that you have to buy and keep into your closet. Do you love my choices?
OMG, più lo vedo e più non ci credo: sono sul numero di maggio di Glamour! Sono felicissima perchè Glamour è la mia rivista preferita da sempre e vedere la mia faccia su queste pagine… wow 
♥
♥
In questo articolo, in qualità di Fashion Angel di Genova consiglio i miei negozi preferiti che assolutamente non potete non visitare se venite da queste parti (oltre al fatto che se venite dalle mie parti dovete avvisarmi ça va sans dire) + i miei acquisti "it" ovvero quelle cose che proprio non possono mancare in un guardaroba. Che ne pensate? Vi piacciono i miei consigli?