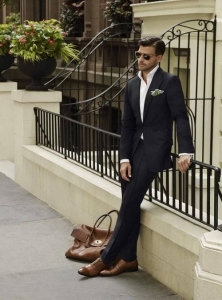 Oggi parliamo di un argomento totalmente nuovo per il blog, generalmente incentrato sui trend femminili: facciamo un salto nel magico mondo della moda maschile e vi illustro un brand di scarpe di altissima qualità che farà impazzire i maschietti in ascolto e risolverà a voi signorine l'arduo compito di fargli un regalo. Oliver Sweeney è il brand leader nel Regno Unito e produce scarpe belle e resistenti: si sa, gli uomini non hanno tante scarpe quante amiamo averne noi e allora un acquisto intelligente e duraturo è d'obbligo. Trovate la collezione di Oliver Sweeney sullo shop online di Harrods! Come vedete oggi c'è anche la versione in inglese del post che riporta anche alcune notizie tecniche sulla nascita della collezione: capita talmente poco di parlare di moda maschile che mi sembrava d'obbligo allegarla 🙂
Unlike women, men buy shoes for comfort and practicality. Their shoes need to fit well straight away and be durable, since most men will only own one or two pairs at a time – one pair for work and one pair for their social life. A well designed and smart pair of shoes can add style and finish to even a modest costing suit, whereas a pair of cheap shoes can detract significantly from the appearance of a well-made suit.
Oliver Sweeney is one of the UK's most expert designers of shoes for men. He has been designing shoes since the 1980s and he launched his own brand of designer shoes for men at Harrods in 1989. His designs are best known for being shaped for comfort without sacrificing any style: his sleek Weaver Swung Derby shoes, for example, with their shiny black leather and sleek lines are reminiscent of the contours of a high end sports car. His brogues, loafers and classic shoes are all made in shiny black leather or buffed brown leather with his signature punched detail and Goodyear soles. These are shoes that will look good at work or out and about and that will easily endure daily wear.

It is possible to have Oliver Sweeney designer shoes tattooed with whatever words, numbers or patterns a customer may choose. This could perhaps be a favourite phrase or saying, a loved one's name or a significant date tattooed artfully along the side of the shoe. This is done in much the same way as a traditional tattoo but is only as permanent as the customer would want to wear the shoes for. British designer shoes for menare recognised as some of the finest in the world and Oliver Sweeney's brand is no exception. He learnt his craft from the ground up, working as a shop boy at the age of 16 for a bespoke shoe makers' where he repaired and ultimately started to make shoes. His own key pieces have included his 'Chelsea' shoe style and all his styles have been built around his trademarked 'Anatomical Last' – the 'last' is the foot shape that he uses to shape all of his materials around to create a shoe, rather like a clothes designer would use a dummy. His Anatomical Last is accurately shaped so that he can create shoes that support the instep and encourages a proper gait when walking.