When
Giorgia & Johns
sent me this dress I really didn't know what to think:
it's really a piece that I don't usually wear cause my fashion tastes are more easy than sophisticated.
But you know, my opinion is taking risks and so I am really happy that I had the opportunity
to try on something different from my fashion habits. This little dress doesn't need words:
it's beautiful and chic, short but not too much, easy but impressive thanks to lace details,
perfect for a sophisticated, fascinating girl. And that's what I tried to personificate:
a mysterious lady, lost in the railways with her lovely little creamy dress. Almost a fairy post.
I matched black and white details and an animalier coat just not to be too serious: what do you think?
—
Quando
Giorgia & Johns
mi ha recapitato a casa questo vestito non sapevo cosa dire:
non fraintendetemi, è un pezzo meraviglioso ma talmente lontano da quello che generalmente
indosso che un po' di spaesamento era d'obbligo. Ma ormai mi conoscete e sapete
che la mia linea è "correre dei rischi" perciò sono davvero felice di aver avuto l'opportunità
di provare qualcosa di nuovo e di uscire dalle mie solite abitudini fashion.
Questo vestito non ha bisogno di parole: bellissimo e molto chic, corto ma non troppo, dalle linee
pulite impreziosite dal dettaglio in pizzo (amo!!), perfetto per una donna sofisticata ed elegante.
Ed è proprio questo il mood che ho voluto seguire ed interpretare: una ragazza misteriosa
che girovaga sui binari del treno avvolta da un'allure quasi soprannaturale e dal suo raffinato little dress.
Una location fatata lontana dal caos quotidiano dove il capo G&J sembra essere uscito da un libro magico
di principesse e castelli. Ho aggiunto dettagli in nero e bianco, i due "non colori" per antonomasia
perchè non volevo che null'altro rubasse la scena al vestito e ho aggiunto un cappottino animalier
per sdrammatizzare il tutto e rispettare i miei gusti anticonvenzionali. Che ne dite? Approvate la mia scelta? Kiss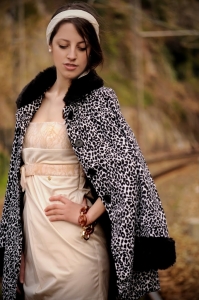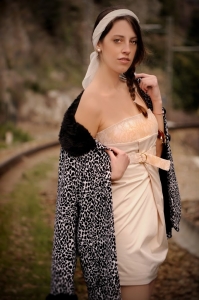 Dress via Giorgia & Johns (thx!)
H&M animalier coat
Zara black heels
White headband via Pinko (thx!)
Amber bracelet via Collane di Giuliana (thx!)
Previously seen
Collane di Giuliana bracelet
here