Tomorrow will begin the first of 3 italian VFNO in Milan:
will you be there? I won't and I also received an invitation that sounds sooo good,
double regrets 🙁
Here the most interesting events 🙂
—
Domani inizierà la prima delle 3 VFNO italiane a Milano:
ci sarete? Io no 🙁
e pensare che avevo anche ricevuto un invito davvero invitante,
doppio dispiacere 🙁
Qui per voi gli eventi più interessanti 🙂
Coccinelle:
buy the exclusive bracelet and help people from Emilia!
comprate l'esclusivo bracciale e potrete aiutare gli sfollati dell'Emilia
@ corso Genova
Silvian Heach:
the most glamorous look will become a Silvian Heach personal shopper for a day! 🙂
la ragazza con il look più glamour diventerà personal shopper per Silvian Heach per un giorno! 🙂
@ Rinascente Milano
Moschino:
finally Gennarino could be yours!
finalmente Gennarino può diventare tuo! 🙂
@ via San Gregorio
Bershka:
150 "Etnia Barcelona" sunnies given to the luckiest girls/
150 occhiali da sole "Etnia Barcelona" saranno regalati alle ragazze più fortunate
@ c.so Vittorio Emanuele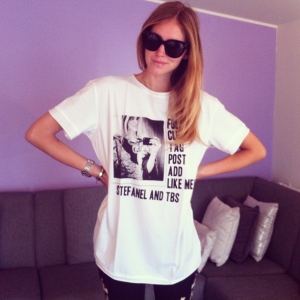 Stefanel:
don't miss the exclusive "The Blonde Salad" tee by Chiara Ferragni/
non perdetevi l'esclusiva tee firmata da Chiara Ferragni "The Blonde Salad"
@ galleria Vittorio Emanuele II